Office Hours
Mon. – Fri. – 8:30 – 4:30
Driver's License Hours
Mon. – Fri. – 8:30 – 4:00, closed for lunch 12:30 – 1:30

Mailing:
PO Box 173
Tazewell, TN 37879
Phone: (423) 626-3283
Fax: (423) 626-6234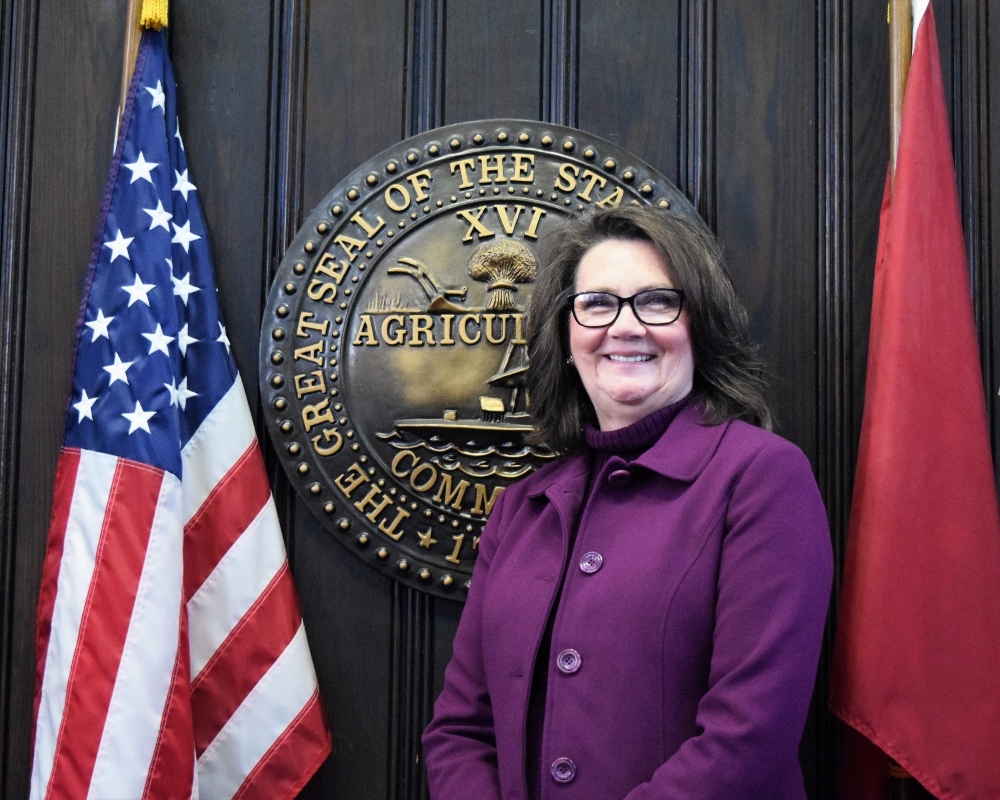 The Claiborne County Clerk's office provides numerous services for the citizens of Claiborne County such as automobile registrations, notary public applications, marriage applications and issuance of business license.
The Claiborne County Clerk is elected at large for a four-year term. The current County Clerk is Karen Hurst.
*Use the link above for online plate renewals, renewal reminders, marriage applications, and vehicles sales tax calculator. For other services, please visit the County Clerk office located in the County Court House.
FAQS
What do I need to register a vehicle in Claiborne County?
The title (and a bill of sale if the vehicle is new) to the vehicle in question. If you are moving from another state where the lienholder possesses the title, then you must provide us with a current registration for your vehicle and the lienholder's address where the title is being held.
If I have a current driver's license in another state what do I need to get a driver's license in Claiborne County?
Visit a Driver's License Testing Facility .
How do I obtain a Claiborne County Business License?
You must fill out an application for a business license and remit a fee of $15.
---
NOTARIES
Qualifications 
All notaries must be 18 years of age (8-18-101). United States citizenship is not a requirement for a person to hold the office of notary public (8-16-101). Notaries are elected by the county legislative body in the county in which they reside or have their principal place of business (8-18-101) and are commissioned by the governor (8-16-102). A person with a principal place of business in a Tennessee county may be elected a notary in that county even though that person's residence is in another state (18-16-101). The same basic disqualifications exist for notaries as for other county offices (8-18-101). A notary may be removed from office just as any other county official. The notary's term is four (4) years, beginning on the date of issuance of the commission by the governor (8-16-103). Renewal is by the same method as the original procedure. For more information, reach out to our office.
How to I become a notary public?
Submit an application for notary public to the County Clerk. The fee for a new notary is $44.00, renewals are $15.00. The County Commission votes to approve your application. Once you have been approved, the Secretary of State issues you a commission to become a notary. Once we have received this commission you are notified to surrender a bond from an insurance company or from personal sureties. Personal surety bonds must also be approved by the County Commission.
Forms
Notary Public Application
Notary Public Bond Application (for personal sureties only)
---
BOAT REGISTRATIONS
What do I need to register a boat that I have purchased?
When purchasing a boat from an individual, you should receive the registration card/title to the watercraft and a bill of sale. Once you have obtained the required documentation you must come into the County Clerk's office to make application for your boat registration. You will be required at the time to remit taxes on the purchase price and a fee of $7.00. At that time, you will be given a receipt for sales tax paid and an Application for Boat Certificate of Number. The white copy of this application should be mailed with the appropriate fee to the address provided and the yellow copy retained by you as a temporary registration.
When purchasing a boat from a Tennessee dealership, make sure that they process or provide you with a completed Application for Boat Certificate of Number. Furthermore, if they process the paperwork for you, you should receive the yellow copy of the application because it is your temporary registration. Should the dealership give you both the white and yellow copy, mail the white copy with the appropriate fee to:
Boat Registration
PO Box 41729
Nashville, TN 37204.
New residents to Tennessee who wish to register their watercraft in Tennessee must provide proof of ownership (current registration card of title) and proof that sales tax was paid. You may be required when registering to pay additional sales tax on the watercraft.
How do I renew my boat registration?
You may renew your Tennessee boat registration at the County Clerk's office. In order to renew we must have either your renewal notice or previous boat registration and the owner's birth date. You will receive a temporary registration until the TWRA mails you your new registration card and decals.
Online renewals can be processed at www.gooutdoorstennessee.com.
---
HUNTING AND FISHING LICENSES
Where can I get hunting and fishing licenses in Claiborne County?
The Claiborne County Clerk can process most hunting and fishing licenses except for lifetime sportsman license and other misc. licenses. When applying, you must bring a state driver's license or identification card and social security card. If you currently hold hunting or fishing license in Tennessee you may provide that instead of the above documentation. For more information and regulations consult TWRA Fishing and TWRA Hunting.
Online renewals can be processed at www.gooutdoorstennessee.com.
IMPORTANT LINKS
BOAT REGISTRATION
HUNTING & FISHING LICENSE
Forms
Bill of Sale for a Watercraft
---
MARRIAGE LICENSE
Tennessee residents and out-of-state residents may apply for marriage license at the Claiborne County Clerk's office. Both parties must be present to obtain a marriage license unless incarcerated or disabled. Incarcerated or disabled applicants must submit a notarized affidavit provided by the clerk's office. Applicants must provide either a certified birth certificate or state issued identification/driver's license and a social security card. If you are not a citizen of the United States, you will need a passport or other documentation that proves you are legally in the United States. Per state legislation, no marriage license can be issued to anyone under 17 years old and if an applicant is between 17 and 18, and the other applicant is not more than 4 years older, the license can be issued IF both parents appear and sign their consent on application.
The cost for a marriage license is $100.00. If you have completed four hours of pre-marital counseling and have a form completed by the counselor, the marriage license fee is $40.00. You may fill out the marriage license application prior to but you must bring to the County Clerk's office to complete issuance of the marriage license.
Forms
Marriage License Application  
Pre-Marital Counseling Certificate of Completion
You still have to appear in the Clerk's Office, but this will help expedite the process.
---
MOTOR VEHICLE
Anyone wishing to title a vehicle must provide proof of Tennessee residency in order to receive Tennessee title and registration. Applicants with Tennessee driver's license or identification cards simply provide those when making an application for a title. New residents who have not obtained Tennessee driver's license or identification must furnish two proofs of Tennessee residency with their out of state driver's license in order to register and title your vehicle in Tennessee.
---
TITLES AND REGISTRATIONS
All vehicles must be registered at the time you are making application for title. You cannot apply for a title only. Titling new vehicles is usually handled by the dealership where the vehicle is purchased. The dealership may title the vehicle in the county where the purchase took place or send the title work to the Claiborne County Clerk to process. If we receive the title application, we will notify you by phone, mail or simply process the application if the appropriate fees are provided and mail the completed work to you. If the dealership gives the title work to the customer for them to process bring all documents provided by the dealership to the clerk's office for processing. All vehicles must be registered at the time the title application is submitted. The fees for title and registering are as follows:
Transfer plate and title – $14.50 – change of fee will be in effect July 1, 2022
Transfer plate with title and noting of lien – $25.50 – change of fee will be in effect July 1, 2022
New regular license plate and title – $90.00 – change of fee will be in effect July 1, 2022
New regular license plate with title and noting of lien – $101.00 – change of fee will be in effect July 1, 2022
New motorcycle license plate and title – $83.00 – change of fee will be in effect July 1, 2022
New motorcycle license plate with title and noting of lien – $94.00 – change of fee will be in effect July 1, 2022
**For questions about fees, please contact the County Clerk's office at (423) 626-3283
Please note the fees listed above do not include sales tax which may apply.
When titling a used vehicle purchased from an individual, make sure you receive a signed Certificate of Title from the previous owner. The signature should appear under the Assignment of Title by Registered Owner heading. Only dealerships may pass ownership without titling the vehicle in their names. Certain state titles must be notarized. Check with the County Clerk's office for further details.
MAKE SURE THAT THE PERSON YOU ARE PURCHASING THE VEHICLE FROM APPEARS ON THE FRONT OF THE TITLE AND THEY HAVE SIGNED EXACTLY HOW THEIR NAME(S) APPEARS ON THE FACE OF THE CERTIFICATE OF TITLE. If the title has two owners on the front with the conjunction AND connecting the two names, both signatures must appear. Upon receipt of the Certificate of Title you should sign to accept ownership of the vehicle and bring the title to the clerk's office. You will be required to pay sales tax on the vehicle, a registration fee and a title fee. You cannot apply for a title only, the vehicle must be registered at the time you make application.
New Residents
New residents wishing to title and register in Tennessee must surrender their out of state title, if it is in their possession. If you have a lien on your vehicle and do not possess the title you should bring in your current vehicle registration and the full address of the lienholder. Make sure that the address you provide is the location where the title is being held and not just where you send payments.
Noting of Liens
To note a lien, you must submit the Tennessee Certificate of Title, an Application for Noting of Lien on Certificate of Title and a copy of security agreement which identifies the vehicle and is signed. The fee is $11.00 to note a lien in addition to $11.00 for a new title yielding a total cost of $22.00.

Duplicate Titles
In order to receive a duplicate title, the owner must submit a Certification for Duplicate Certificate of Title to the clerk's office, provide identification and a fee of $11.00. Most duplicate titles are completed that day and handed to owner.
For more information visit the Tennessee Department of Revenue Vehicle Services.
Wheel Tax
All county residents are required to purchase a wheel tax for each vehicle. If the vehicle is titled in another county by a dealer or yourself, you are responsible for coming into the clerk's office to comply with county law. Wheel tax is $50.00 for all vehicles. The wheel tax is included in the above listed rates.
Registration Renewals
All residents of Claiborne County must renew their vehicle registrations at the Claiborne County Clerk's office. In order to renew your vehicle registration, you should submit either a renewal notice of a copy of your current registration. The fee to renew a regular registration is $79.00. A motorcycle registration costs $72.00 to renew and specialty plates are $115.00. If you are mailing your renewal notice, please add the $5.00 mailing fee to your bill.
County residents may now renew their vehicle registrations on-line. There will be an additional 2% fee added to the regular mail in fees when you renew online.
IMPORTANT LINKS
Online Registration Renewals
---
BUSINESS LICENSES
Each business has up to 20 days after it opens to apply for a county business license. The initial license fee is $15.00. If a business is located within the city limits of a municipality, the business may be required to hold a city license. The city license can be obtained at the city hall. If the business has gross receipts of $10,000.00 or more, they must file business tax returns and pay business tax yearly to the Tennessee Department of Revenue. A business planning to gross between $3,000.00 and $100,000.00 per year may apply for a Minimal Activity License, which is renewable yearly at the county clerk's office for a fee of $15.00 and no return or tax payments are made to the Department of Revenue. If the business has gross receipts totaling $3,000.00 or less, the business is not subject to hold a business license, however they must have an exemption statement on file.  
Business Classifications
There are five classifications based on the activities of the business. Your business will file a tax return and pay taxes based on the total gross receipts for its fiscal year. Examples of the activities associated with each classification are listed below.
• CLASS 1 – Gas stations, grocery stores, lumber & building supplies
• CLASS 2 – Restaurants, car dealers, clothing stores
• CLASS 3 – Body shops, beauty shops, janitorial services, general services
• CLASS 4 – Contractors, sub-contractors, exterminators
• CLASS 5 – Industrial loan and thrift companies, natural gas marketers
At the end of the business's fiscal year, tax payments should be made online to the Tennessee Department of Revenue.
 A business, unless exempt, operating without a current business license is violating state laws.
IMPORTANT LINKS
Business Tax Returns
Forms
Business License Application
---
DRIVER'S LICENSE
The Claiborne County Clerk's office is contracted with the State of Tennessee Department of Safety to renew and replace Tennessee State Driver's License and Identification Cards and renew concealed carry permits. As an Express Station, we are unable to do any driver's testing, driver's license transfers from other states (new residents or returning residents), renew any Tennessee Commercial Driver's License, reinstate driver's license, issue new identification cards, issue new concealed carry permits or print a driving record. Also, as a part of our contract we are required to charge an additional $4.00 processing fee on all transactions.
Office Hours
Mon. – Fri. – 8:30 a.m. – 4:00 p.m.
Closed daily for lunch: 12:30 p.m. – 1:30 p.m.
Renewals
Residents wishing to renew their driver's license, identification cards or concealed carry permits must submit their renewal notice and their current license or ID. You will be required to complete an application provided by the state in the event you did not receive a notice from the state to renew.
Duplicates
If your driver's license is lost or stolen you may apply for and receive a duplicate license in the Claiborne County Express Office. You will need to bring a form of identification when applying for the duplicate, for example a birth certificate, social security card, or work/school ID card. Also, if you are a Tennessee resident who has a change of residency, the clerk's office can change the address on your driver's license upon proof submitted. State law requires that upon a change of residency you must have the address changed on your license within ten days. Also, you should change the address on your vehicle registration and purchase a Claiborne County wheel tax.
Identification Cards/Concealed Carry Permits
Our office can only renew and replace identification cards and only renew concealed carry permits due to our state contract. Anyone wishing to apply for an identification card or concealed carry permit for the first time must go to an examining station with the Department of Safety and Homeland Security. Our office can only renewal concealed carry permits.
Driver License Downgrades
Our express office is approved to downgrade CDLs to Class D and Class D to ID only at the request for the customer.  To upgrade you must visit a full-service examining station. 
Commercial Driver's License (CDL)
Our express office may now make address changes to existing CDLs. You must provide two proofs of residence.
REAL ID
The Express Office can complete applications for Real ID. You must present ORIGINAL or CERTIFIED documents to apply for a REAL ID. You must have the following documents:
Proof to establish citizenship or legal presence
Proof of full Social Security Number
Two proofs of Tennessee residency.
Also documentation of any name changes must also be provided.
New Residents
We cannot process new residents' applications for driver's license or returning resident's applications.  You must go to a main examining station to process your applications.
IMPORTANT LINKS
Driver's License Information
---
We accept cash, local checks and major credit cards (Discover, Mastercard, Visa) for payment on all services. A 2% surcharge applies to credit card payments.