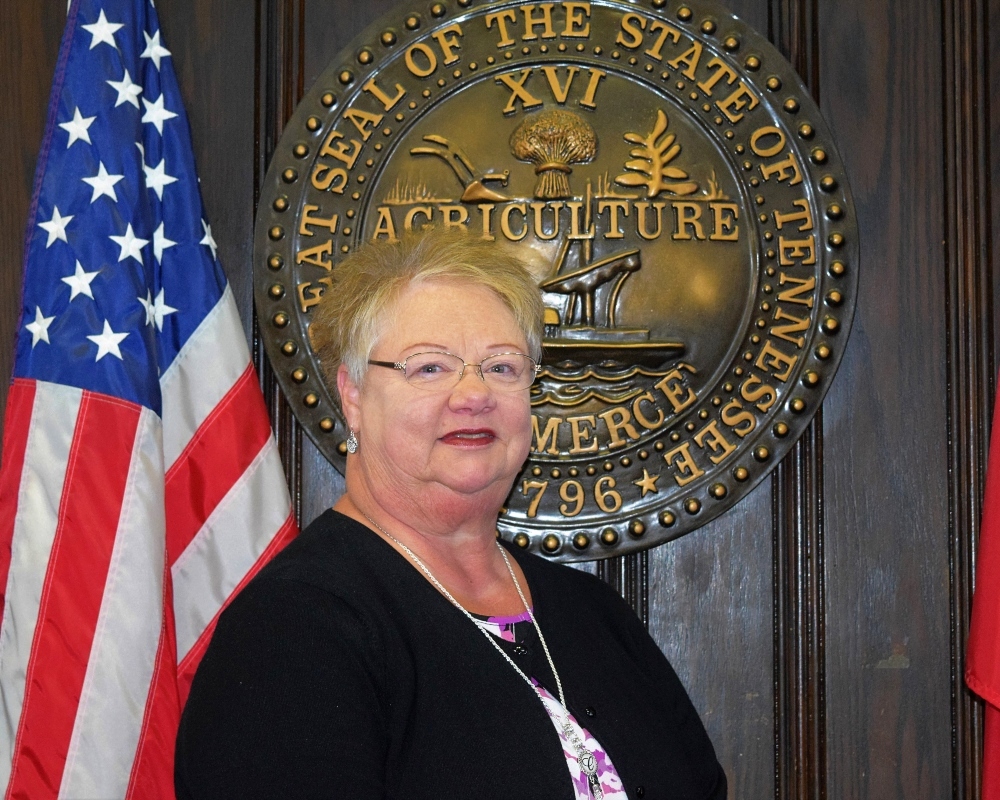 Hours : M-F, 8:30 – 4:30
1802 Main Street
Tazewell, TN 37879
Mailing:
P.O. Box 343
Tazewell, TN 37879
Phone: (423) 626-5128
Fax: (423) 626-6770
Email: claibornecounty@gmail.com
Welcome to the Claiborne County Election Commission's Office. The County Election Commission has the statutory responsibilities of registering voters and conducting elections. The Administrator of Elections is appointed by the County Election Commission. The current Administrator of Elections is Carolyn O'Dell who took office of the Administrator of Elections on April 17, 2006.
The Elections Office is staffed with the Elections Administrator as well as Sandra Chumley, Deputy Administrator.
IMPORTANT LINKS
Check Voter Registration Status
Online Voter Registration
Printable Voter Registration Application
Absentee Ballot Request
Military/Overseas Voter Ballot Request
Claiborne County Elected Officials
CLAIBORNE COUNTY ELECTION COMMISSIONERS
The Claiborne County Election Commission is composed of 5 members who are appointed by the State Election Commission.
ABSENTEE VOTING
To vote by-mail, a registered voter must meet certain requirements.
A registered voter may request an application for a by-mail ballot no earlier than 90 days before the election and no later than seven days before the election. To be processed for the next election, the application must be received by the election commission no later than seven days before the election. Each request time period is outlined below. Your request cannot be processed if not received within these dates. You may also request an absentee ballot by mail, fax, or email. When requesting, please include a scanned signature and the following information and send directly to your local county election commission office:
Name of registered voter
Voter's residential address
Voter's social security number
Voter's date of birth
Address to mail the ballot outside the county (this applies only when the reason for voting by mail involves that the voter will be outside of the county during early voting and on Election Day)
The election in which the voter wishes to participate. If the election involves a primary, the political party in which the voter wishes to participate.
Reason the voter wishes to vote absentee. If applicable, a copy of the CDL containing the CDL number or the TWIC card must be included in the voter's request.
Voter's signature
QUALIFYING PETITIONS
QUALIFYING PROCEDURES FOR CANDIDATES
1. Appointment of Treasurer Form: Upon deciding to become a candidate, a political treasurer must be appointed. No funds may be received or expended until a treasurer has been appointed. A candidate may appoint himself or herself to this position. A new form must be filed if the treasurer is changed. This form is available at and must be filed with the Claiborne County Election Office.
2. Candidate Nominating Petition: Pursuant to T.C.A. § 2-5-102 a candidate may obtain a nominating petition from the county election commission office. Each page of the petition must be signed by the candidate and an Election Official and may not be photocopied. The nominating petition must be signed by at least 25 qualified voters who are registered in the candidate's district. It is recommended that a candidate obtain at least 40-50 signatures in order to prevent a candidate from having a shortage in the number of qualified signatures. Each voter who signs the petitions must also supply his or her residence address as it appears on his or her voter registration record. No ditto marks or post office box addresses can be accepted. Each voter must sign his or her own name. There is a space available and should be used to print the voters name.
3. Petition Issuing and Filing Deadline Dates: Pursuant to T.C.A. § 2-5-102(5) Qualifying petitions cannot be picked up prior to 60 days before the qualifying deadline for the office being sought. The Qualifying Deadline dates are specific to each individual election.
4. Where to File Petitions: Candidates must file petitions in the county in which he or she resides. If the elected office the candidate is seeking represents more than one county, it is the candidate's responsibility to provide certified duplicates of the petition to each county by 12:00 noon on the qualifying deadline. The copies can either be hand delivered or mailed certified mail. There are no filing fees.
5. Statement of Interest: All Candidates are required to file this form no later than 30 days following the qualifying deadline. No dollar amounts need to be listed. If a candidate is running for the same office he or she holds and filed an annual statement of interest in JANUARY of the same year as the election, then the candidate is not required to file another statement.
6. Campaign Contribution and Disclosure Filings: Pursuant to T.C.A. § 2-10-101 Financial disclosure forms do not apply to those positions that are part-time and for which the compensation is less than $1,000.00 per month and if the candidate does not spend more than $1,000.00 on his or her campaign.
For information regarding candidate filing dates, visit the Tennessee Registry of Election Finance.
VOTING PRECINCTS AND DISTRICTS
Each voter has been mailed a voter registration card containing their voting precinct and corresponding district numbers listed on the back of the card. If you do not have a current voter registration card, then we encourage you to call our office and request a new one.